Temporary Library

In January 2020, the concept of Teaching Design came to life in an exhibition at the A to Z Gallery in Berlin – called Teaching Design CONVERSATIONS. We created a space where people could come together, browse through the physical library, sit down for a tea, share experiences, stage public readings and offer workshops on design education. In this format, the focus was on conversations, building networks, collective reflection and providing a space for perspectives that are not heard enough.

The books accessible in the temporary library came from local libraries and bookshops and people who were willing to lend their books for a while. The is idea is to travel with this concept and by that expand the bibliography as well as the networks of people participating. This means that each version of the library offers a different selection of publications influenced by the people, context and focus within design teaching and beyond.


︎︎︎You can find our Reader with the 2-week program and infos about events and participants as PDF here.
Gallery space view, exhibition furniture by Peter Behrbohm, Ornamental curtain by Benedetta Crippa, Photo © Hans Peter Gaul for A–Z, Berlin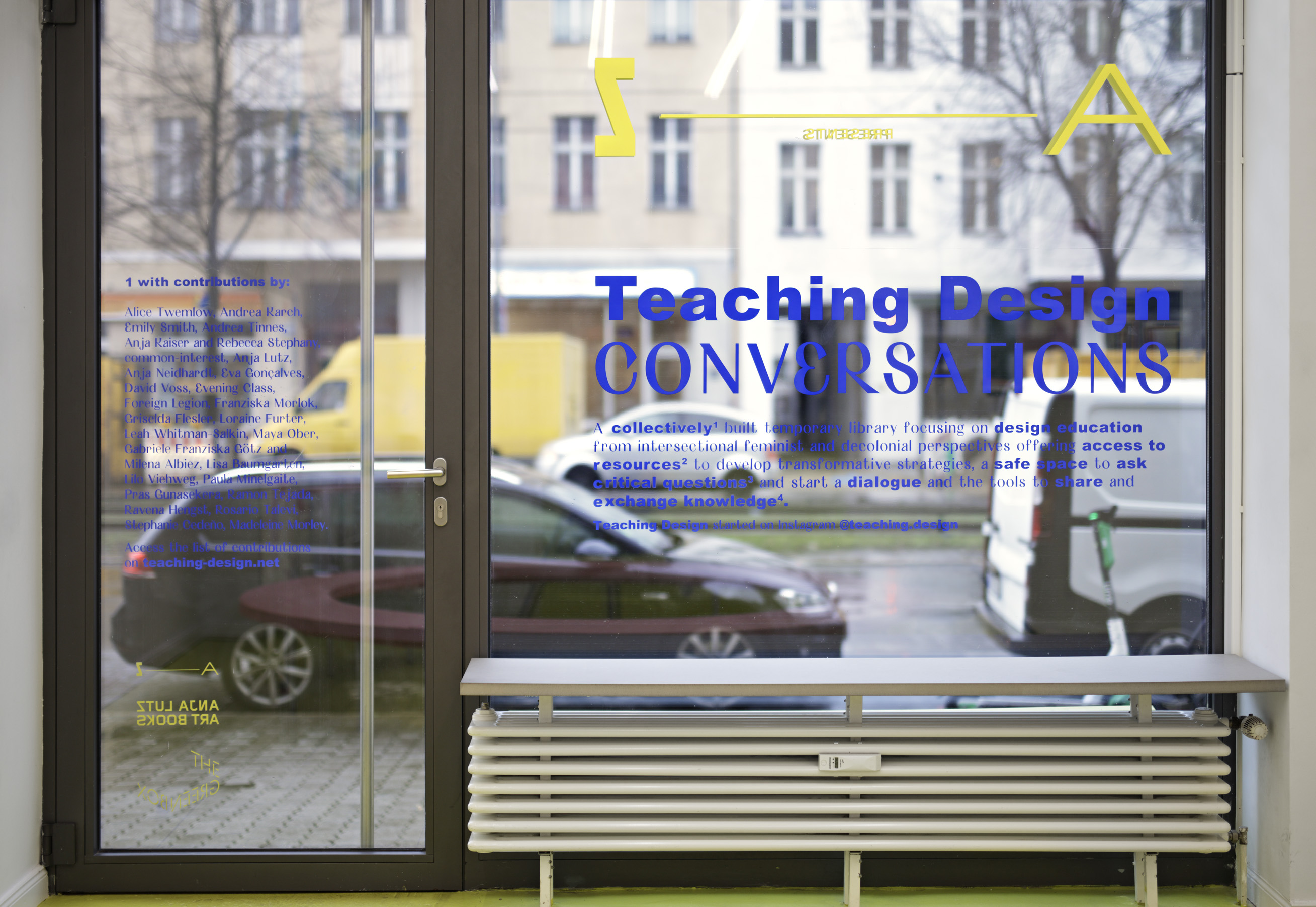 View from inside / program and participants on windows and door
The "Digitizer" built by Peter Behrbohm
Workshops

Part of the two-week format was also a workshop, planned and realised together with Antonia Schneemann. Antonia has a background in critical art mediation. The Anglo-Saxon and Anglo-American studies of feminist, discrimination-critical, queer and post-colonial art and cultural studies are influential for art mediation as a critical practice – which aligns with the concept of
Teaching Design
.
Due to great feedback and interest we planned two more workshops to be facilitated in March and April 2020, below you can read our original plan.
Following the development of the Covid-19 outbreak closely we decided to postpone the workshops until further notice. This was not an easy decision, since we were very looking forward to getting to know you and spend some inspiring time together, however we think we have the opportunity and also a responsibility to do our part in trying to prevent – or at least slow down – the spread of the virus.
We are optimistic that we can pick things up again in the near future and promise that we will notify you as soon as we're planning a new date for our workshops.
Until then, stay healthy!
MARCH

Saturday, 14.03.2020, 15:00 – 18:00
Why do I do what I do
like I do it
and not differently? – Part 1


In this workshop we move from the theoretical examination of design to practice. Starting from the participants' and our own individual experiential knowledge, we will test methods, reflect on our skills, and discuss: How we SEE, how we ACT, how we THINK and how we want to TEACH, LEARN and WORK together.

APRIL
Saturday, 04.04.2020,
15:00 – 18:00
Why do I do what I do
like I do it
and not differently? – Part 2
Part 2 will follow up and build on the experiences and thoughts of Part 1. In this Workshop we will focus on positionality and individual standpoints.

More Infos coming soon!
︎Although Part 2 is deepening the knowledge of Part 1, it can be booked independently.
The Workshops will be held by us,
Lisa Baumgarten
and Antonia Schneemann, and hosted by Emily Smith at
P!
in Berlin-Schöneberg, kindly provided by
Prem Krishnamurthy
.
︎
P!
Ebersstrasse 3
10827 Berlin-Schöneberg
http://p-factorial.org
︎
Please register at
info@teaching-design.net
by Tuesday, 03.03.2020.
After you've registered we will follow up with the payment details. Since the number of spots for the workshops are limited, your registration is final once we've received your payment.
︎
Our goal is to make the workshops accessible for everyone, regardless of their financial background – but our system only works if everyone is fair and honest. For this reason we vary the participation fees as follows:
Are you on a tight budget? → 15 €
Are you able to go out for drinks? → 35 €
Are you happy to invite your friends for dinner? → 55 €
︎
The Workshops will be held in English and German, depending on the group.